My Car Crash Chicken Soup
Hello everyone, happy new year!!
Iv been talking about doing this post for a while now but with one thing and another, life have a habit of getting in the way of things you want to get done. In October 2019 I had was involved in a car accident. It happened on the country lanes on my way to work in the early morning. There was no major injuries to me and the other driver but sadly both cars were write offs. The busy lane we were on was closed for over an hour by police and an ambulance checked us both over at the scene. It was quite an experience.




The day prier I had an idea for a chicken soup from scratch, where on that day it was roast chicken day so I had a couple of chicken carcasses left from it. so I saved them in the fridge along with the skin and the cooking juices that was left from roasting. So it was all ready for me to get started early and give the chicken stock a good 5-6 hours to simmer and reduce. Obviously I couldn't do it then so I did it about a month later and it was worth the wait. As I have gone on with my cookery journey I have found there is nothing better than taking simple ingredients and making them into something special.


First I needed to make the chicken stock for the soup:
For the stock recipe I used the chicken bones (2 carcasses), the left over chicken juices, a veg stew pack for quickness that consisted of carrot, swede, celery, onion and the left over chicken juices.


So in a large frying pan, put in all the chicken bones and the stew pack and fry off a little in some butter.
Once the pans had a good sizzle, pour in the juices and some water to fill the pan. Bring that to the boil for a few minutes and turn down to a gentle simmer. This can be left for a good few hours to reduce, the longer you leave it, the better the stock will be. Also with stocks it is good to have a slotted spoon and a jug or something near by so you can skim any fats or impurities off the top of the stock while it simmers, this will make for a clearer, cleaner stock. I simmered my stock for just over 4 hours.


In the time your waiting there is a great, quick accompaniment that you can be made to go with this soup or any soup you do in the future. basically they are long croutons, but i call them bread-stick croutons.
To make them, you will need 4-6 slices of bread, remove the crusts and cut into strips. Place into a large bowl pour in a touch of oil and season, I used salt, pepper, parsley and a little curry powder but the flavours you could do are endless. Give them a gentle mix with your hands and place on a lined baking tray and bake for 10-15 minutes, keep an eye on them tho!
When its ready, take it off the heat. Grab a colander and place it on a large bowl or another saucepan and strain the stock so all of the bones and veg are caught by the colander, discard the bones and veg. Then to ensure there is no bone left whatsoever, pour the stock through a fine sieve. That's your chicken stock ready!!


Now for the soup.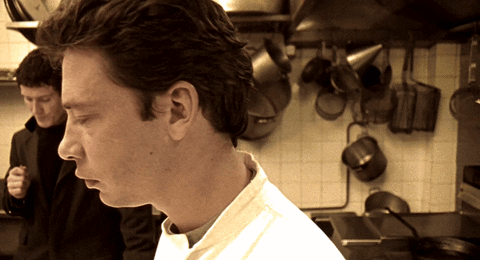 Again, I used a little butter in a large pan to melt. The veg I used was 2 onions, 2 mixed peppers (red and yellow), mushrooms, 2 carrots, 2 potatoes and some garden peas.
Also for flavour and richness, I added garlic powder and mixed herbs.


Add those ingredients to the pan and fry off until the veg is sweating and is starting to go a little soft, which should take about 5 minutes. Then you can add your stock gently! you don't want to lose any of that flavour a tall. bring to the boil then turn down to a simmer for 45 minutes to and hour.


Finishing it off is easy, Use a stick blender to puree the soup until smooth, season with salt and pepper and add a little cream to finish.


And that is my car crash chicken soup with bread-stick croutons.